The day went nothing like planned!

First Mum lost her glasses, so we spent all morning looking (and, even though it's now tomorrow!) we didn't find them. Everything got checked and sorted and emptied (yes, the bins!) So, that delayed us. rather than an early lunch and a walk with Jiffy it was late ... even later as their neighbours popped in, and stayed an hour. It was lovely to see them and they got M&D laughing, so great they came.

So - later than planned I took them out for lunch. That in itself was amazing, as Mum doesn't like meals out. We only went to the local carvery, but it was a nice meal.




When we got back I was going to make a cuppa and then we were going for our walk - the doorbell rang and it was the chief elder and his wife from Church ... who proceeded to open a bottle of Champagne! Yep, I am so glad M&D got to celebrate in style.

Just as they were leaving the phone rang and it was "Auntie" Mary .... Mum's chief bridesmaid who had come on holiday to the area and I was due to collect today. I thought she was phoning with times, but instead it was to say she had fallen and shattered her arm! So, I took M&D to see her at the hotel as she was going to head home this morning, for possible surgery next week. After dropping them off I took Jiffy for a walk and left him in the car to spend some time with Auntie Mary.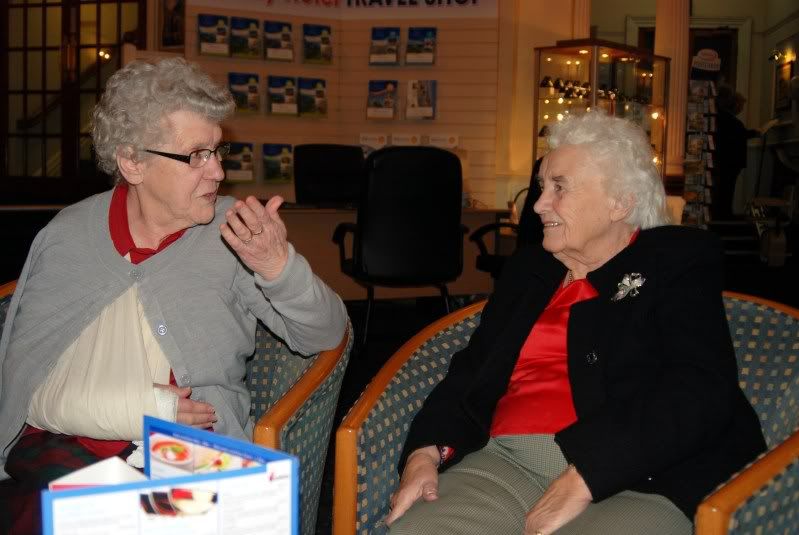 And, so back home - and a late tea ... not finishing till gone 9pm.

So, not quite as planned - but at least it was a memorable diamond day. I did read out all the messages you left on their "post" - thank you, so much.

Tomorrow it is the family party - both boys and families will be here.