Not being around every day means I miss things, which is a pain, but I will get my internet sorted out in my new house in the new year ... then you won't be able to escape me again!

Wow, Christmas has been and gone - and I'm slowly trying to catch up. LJ is full of news, and I can't keep up! However, I did manage to snag a Christmas meme from
kudagirl but I think a few others have done it as well.


1. Egg Nog or Hot Chocolate?
Neither! I have only ever had Hot Choc once, and didn't like it ... I really must try again. And will admit, never tried Egg Nog - maybe one day I'll be brave.

2. Does Santa wrap presents or just sit them under the tree?
Of course Santa wraps the pressies ... and puts them under the tree, and gets you some sweeties and puts them in a stocking to hang on your door handle.

3. Colored lights on tree/house or white?
Coloured - the tree is a muddle - and has a lot of memories hanging on it. One decoration is over 80 years old, and one is 80 this year -



4. Do you hang mistletoe?
Never - but, there again, there's never been a reason to do it ;)

5. When do you put your decorations up?
Normally, mine go up beginning of December and then Mum & Dad's the week before Christmas.

6. What is your favorite holiday dish?
Mince Pies.

7. Favorite Holiday memory as a child?
When I was 7, I couldn't get to sleep and Granddad took me into the spare room to tell me Christmas Stories. It had a small bay window and I sat on the sill. Half way through a story, he got me seeing Santa's sleigh coming round the bend at the top of the hill of the road we lived on. To this day I can hear the bells, and see the lights in my mind.

8. When and how did you learn the truth about Santa?
I was 8 and was at a friends house - she told me!!

9. Do you open a gift on Christmas Eve?
No, it's not Christmas Day!

10. How do you decorate your Christmas tree?
As I've said - a mixture of ornaments and lights ... stretching back to 2 items that Mum had as a kid.

11. Snow! Love it or Dread it?
I love snow - if I don't have to drive. 4 years ago Tim & I had a snowball fight on Christmas Day - that was a special time!

12. Can you ice skate?
Never tried - but seeing how accident prone I am on a dry surface, it would be a bit silly, don't you think?

13. Do you remember your favorite gift?
When I was 3 I was given a toy lorry, big enough to sit on - that went everywhere with me till I was about 7.
The Christmas after Jaykub died, Toni bought me Porteous. Loving giraffes as I do, he was one very special member of the family.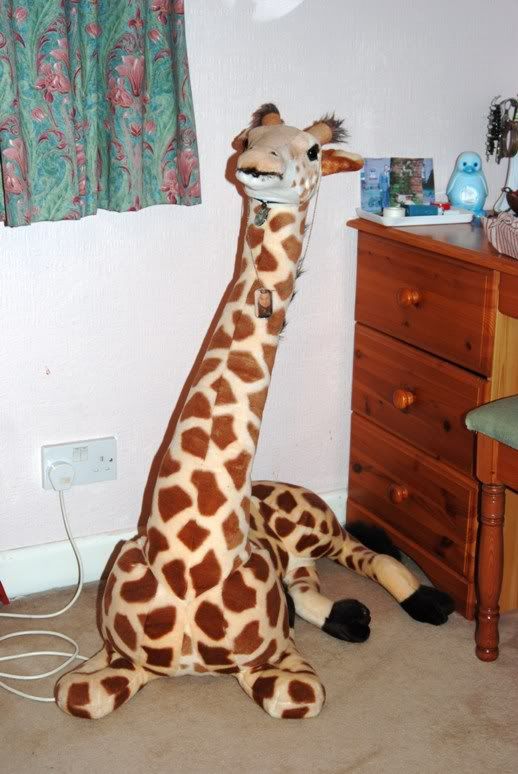 14. What's the most important thing about the Holidays for you?
Time when I don't feel I have to do cleaning etc, but can spend some time doing "me" things .... such as this!

15. What is your favorite Holiday Dessert? Didn't I already said it - Mince Pies!

16. What is your favorite holiday tradition? Don't know that I have any favourites, as such. Christmas ends up a selection of rituals ... However Tim and I always stand up for the National Anthem, and the 10mins Our Queen is talking!

17. What tops your tree?
An Angel, at Mum & Dad's ...a Star at mine!!!

18. Which do you prefer giving or receiving?
Giving - if I know what to give. That's the hardest bit, knowing what to buy.

19. Candy Canes:
OK - but not really bothered if I never see another one!

20. Favorite Christmas show?
White Christmas.

21. Saddest Christmas Song?
Blue Christmas - Elvis Presley



22. What is your favorite Christmas song?
Merry Christmas Everybody - Slade.
My Christmas hasn't started till I have heard this song!



Hope you like the outfits .... the style I was used to watching on Top of the Pops!

For a carol, it's still Hark The Herald Angels Sing ... the one I chose when I was baptised back in 1975!