What can I say - other than the fact James is one gorgeous guy who still continues to give so much to his fans .... old and new.

The rest of my weekend report will go up later, but I need to babble about James, otherwise I think I may explode - and that would be a real mess over Dad's computer!

The event was at St Paul's, Covent Garden and as you can see it is in a central location, and the area was having a Christmas Fair ... which was lovely to see, but only as part of the backdrop to the more important details of the day - Squee, I saw James arrive, but didn't dare even say Hello (using the excuse that it was "his" time, he wouldn't want to be disturbed!

About half an hour before the doors opened I walked round to the front -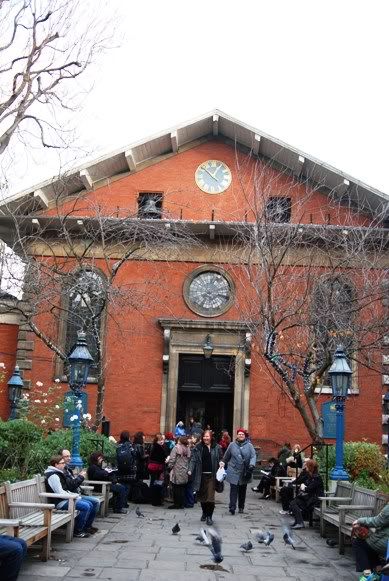 And was pleased to spot
luckster25and her fiance .... we had met at the last event, and it was wonderful to see her again - and to get a great big hug.

We chatted, and squeeeeeeed, and then the time came to go in - The queue was great - seeing a few faces that I recognised from past events ... and getting the biggest hug from
deborahw37... who I had met at my first ever James event. All of us have so much to thank James for ... and one of those things is friends.

As we entered we all had a Christmas pressie (mine was make-up which I laughed at, as I don't wear it! Maybe I should take the hint!!) ... and a Christmas card.





I was in the second row back, and smiled at a few faces I knew, sadly though many friends that I had met weren't there this year ... but there again, the person next but one to me was a newbie ... so it was great to get to know her.

As ever the evnt started with hellos, and details about buying more photos (which you already know I did) ... and Steve (James manager) selling things -




And, so started my day!

.... Loads more to follow!