I saw this on
curiouswombats LJ - where she had been given a colour, chosen for her, by a friend - and you find ten pictures featuring the colour. She was given blue, but I asked her for a colour and she gave me cream/white



1. Jiffy ... yes, he had to be number one, didn't he?




2. Milk ... I love milk, However, it has to be full-fat (as I'm allergic to the rest) ... I love it in tea, on cereals ... or just to drink, ice cold, from the fridge.




3. Pinky & Teddy White - they sit on a chair in my room. Pinky was given to me on my 6month (or my first Christmas Day) and Teddy White (who now has to wear something to cover the bare patches!) was my first birthday pressie ... Both were from Mum & Dad, and both are still very much with me.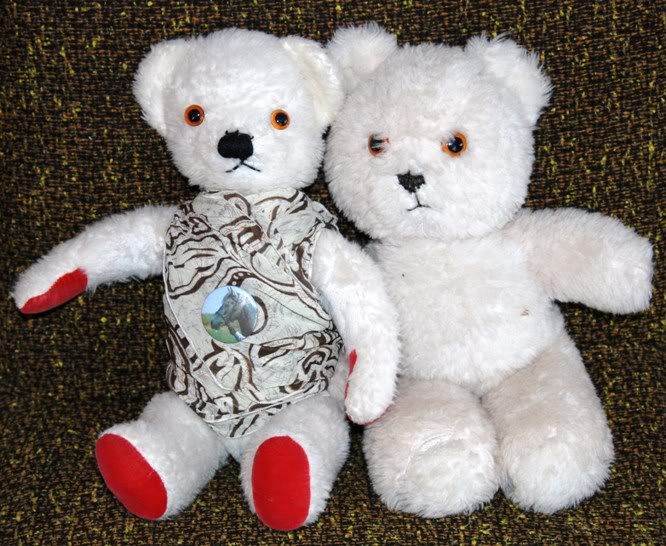 4. Jewellery ... You all know I love it, and hate the fact I can't wear it to work. But one of my necklaces that I own is a Pearl necklace. It is not made from "real" ones, but was given to me by my Great Aunt when I was baptised. It was the gift that her husband had given her for their Silver Wedding Anniversary. So, as well as looking good, it is nice to have a family memory.



6. Ornaments ... well, in this case, cake decorations! I love my "junk" and 2 pieces I have are here, they were on my "Thanksgiving Cake" so are almost 50 years old ... and are proof that whatever other stories you hear, the stork is who brings babies!




7. Charlie - he is my human skeleton that I have the skull as an ornament under my TV here. Jiffy always loves sniffing it and does so regularily!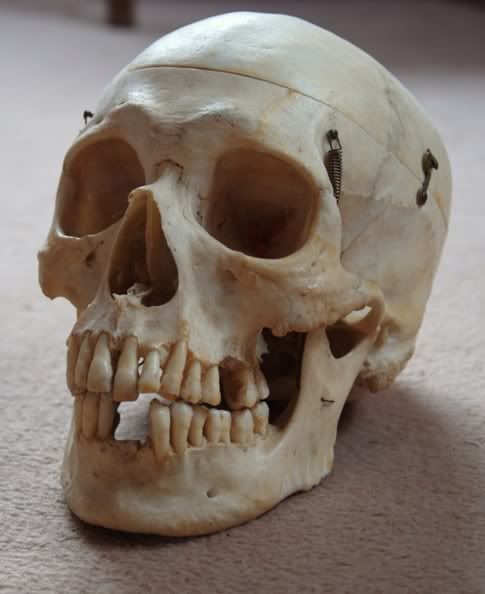 8. Honeysuckle - my favourite flower. And, although has pink or yellow in it, it still has white/cream petals ... but if that doesn't count I love roses and you can get white ores, can't you?




9. White Tigers - as well as giraffes I love Tigers ... and aren't White Tigers truly stunning?




10. My Usrename!!

Debris - I am accident prone, so have a lot of crepe bandages around.
Spike - Who can fail to love a bleached blond vampire?





So, if you want a colour, just ask.