No - I am not starting a Christmas recipe club - LOL I have sorted out "a few" pictures from my holiday in Greece that I took a couple of weeks ago with my parents.

Be warned - there are quite a few pics - so if you don't want to be bored just go onto another entry!!


I had a great week. None of us had been to Greece before - so it was great to explore somewhere new.

We stayed on one of the DodekaniseIslands - That of Kos. It is lovely - quite small, so ideal to spend a week on as there is enough to visit - but also some great beaches - this was 3 minutes from where we were staying -
The land you see in the distance is actually Turkey!
Kos was famous for one main thin - it is the birthplace of Hippocrates - Here is a "tourist" sitting on one of the main statues of him -
We went on a trip around the island on one day - and went to the large Temple complex where Hipocrates was born. His father was the High-Priest for the Greek demi-god of healing - Asklepion. However he thought that there was more to illness than karma. Because of this he was forced to leave the training that he was doing to be a priest - and instead visited his great friend Pythagorus (Hope that's the spelling - my brother Nick will kill me if it's wrong) on a neighbouring Island.
They both worked with the same equation -
a2 x b2 = c2
Where c = illness.


Eventually Hippocrates came home - and built upon the ground-work that was already there - keeping people separetd now by their types of illness, having areas of rest, of music and the arts and of prayer. By doing this he gradually developed the theories that we now use in medicine today - here are some pics of the remains of this site. Much was destoyed by an earthquake and sadly over the years life has taken it's toll. Just wish I could remember everything we heard there -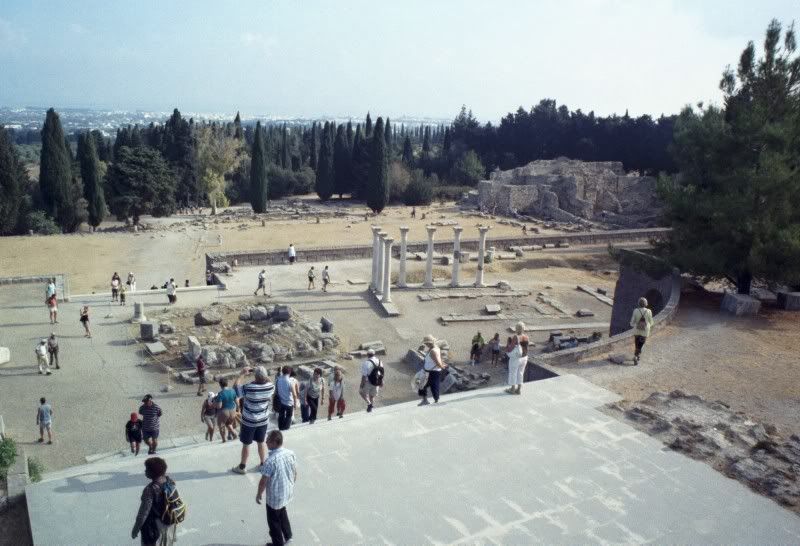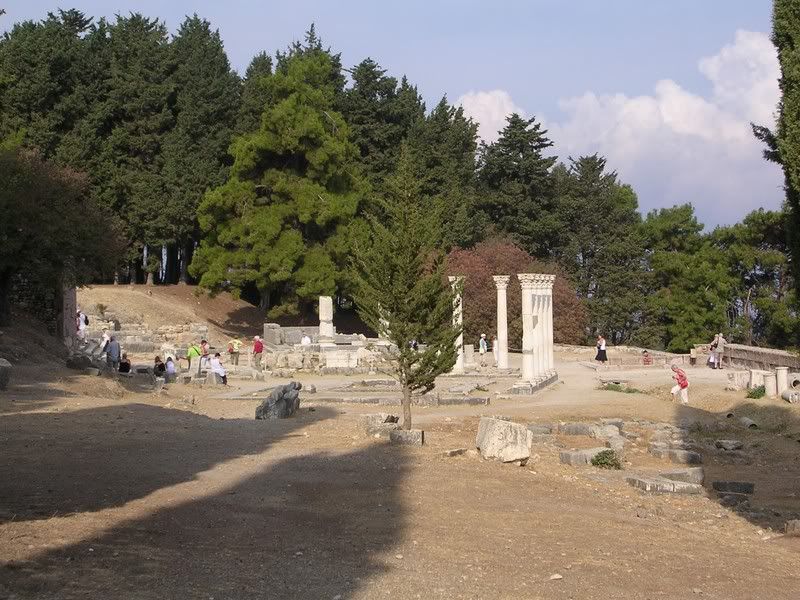 As part of the same trip we saw some other parts of the island - In Antimacheia we saw one of the many typical windmills -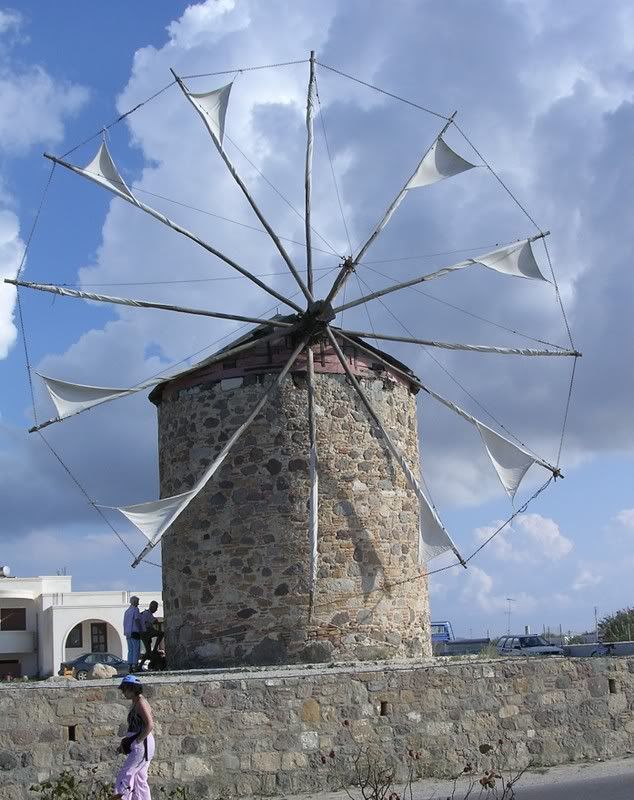 And saw some of the many churches typical of the area - they all have these blue domes - so that when you see them they are meant to reming you of the sky - and thus Heaven, the home of God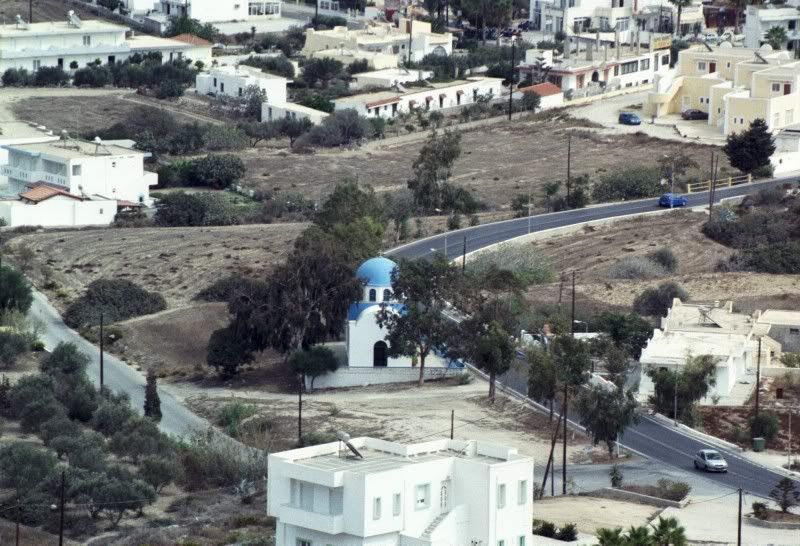 We went inside the one at Zia - lovely as ever - but amazing to think this Church was built and decorated in the 10th Century!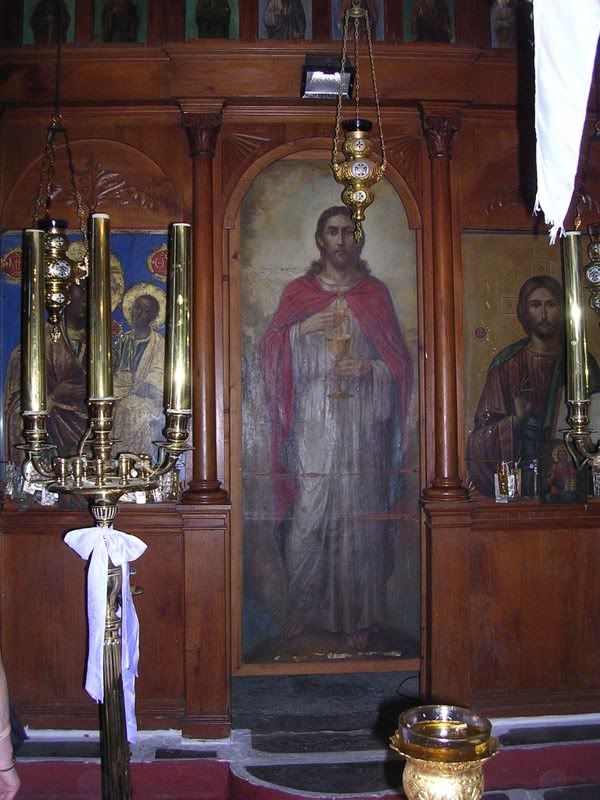 While on our trip - we did stop for lunch - but not a siesta, like I spotted some of the locals having -
The capital - where we were staying is called Kos Town. This also had a lot of amazing ruins - we spent quite a time in the castle - but no photos really do it justice - as it is so huge. It is mostly 14 - 16th Century - This gives you some idea - and the 2nd picture shows the only way in!
There were other remains - such as the Theatre - called an Odium -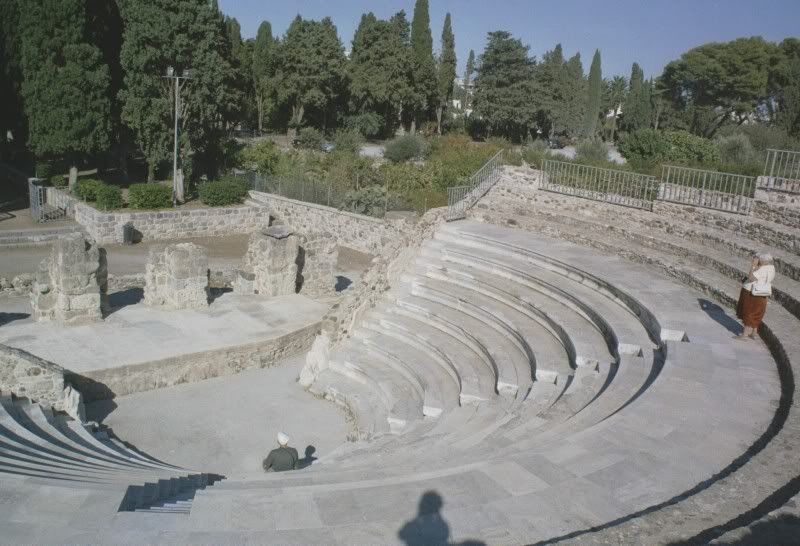 We also visited this tree -
It was supposed to have been planted by Hippocrates - and legend has it that if you walk round it 7 times while touching it you will become pregnant - I tried daring my Mum to do it, but she wouldn't!
Still - it was fun to tease! Here ar my parents on the harbour of Kos Town. Its near where we had our meal each evening.
So - as you can see a great Island to visit - plenty to see, but great weather if you just want to rest - But be warned ... There are cats everywhere. They run around - all the shops feed them, cars stop for them - it is an amazing site!
So - all in all a great Island. We also went for a day trip to Turkey while we were there - but that is a separate entry as this was getting too long!