My first ever win at anything via LJ!!!!

While I have been unemployed I am trying to be positive as to my day - and as I love icons I thought I would have a bit of a go as the 3 competition sites I found provide the pictures! So, learning basic crop and re-size has been fun ... Yay ...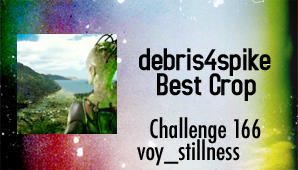 Even better as it was on a tie break, so got the final vote!

Since then the BtVS one I have been playing with talked textures this week - so I was lost ... but they (and one of my friends here) pointed me to a free download ... which is now on my computer ... and it's scary! I am trying to find a basic place to start, but each time I look I panic ... so, next week, I must concentrate and learn.

Anyway, here are a few of the ones I have been playing with, that are non-Buffy

STAR TREK VOYAGER

These icons were done for a few of the challenges on voy_stillness ... and for those not using screen caps provided there I got them from http://voy.trekcore.com/gallery/








GENERAL ICONS -

These ones were done for
affirming_faith ,using pictures provided there.






FARSCAPE - Mostly from The Pilot episode, with one from The Peacekeeper War.

Screencaps from www.farscapecaps.com





All are snaggable!