And so I continue with my Picture Meme that I snagged from
hell0kittyangel ...

Day 1 — Your Best Friend ... Toni
Day 2 — Your crush ... James Marsters
Day 3 — Your Parents ... Mum and Dad
Day 4 — Your sibling ... Nick & Tim
Day 5 — Your dreams ... Mum and Dad
Day 4 — Your sibling ... Nick & Tim
Day 5 — Your dreams ... here
Day 6 — A Stranger ... here
Day 7 — Your Ex-boyfriend/girlfriend/love/crush ... N/A
Day 8 — Your favorite internet friend ... Annemarie (& Stefan)
Day 9 — Someone you wish you could meet ... The Queen & Prince Philip ... and James, of course
Day 10 — Someone you don't talk to as much as you'd like to ... College - The British Scool of Osteopathy
Day 11 — A Deceased person you wish you could talk to ... My Grandparents
Day 12 — The person you hate most/caused you a lot of pain ... School - The Cooper's Company and Coborn School
Day 13 — Someone you wish could forgive you ... I know GOD has forgiven me.
Day 14 — Someone you've drifted away from ... Chris, Sharon & Sylv

Day 15 — The person you miss the most

As most of you know I only started learning to ride in my mid 30s ... and about the time I was mastering a basic rising-trot, and learning basic equine skills, Toni bought a new horse for the stables - it was love at first sight. He was too much for me to handle, yet he was one special boy.

Toni named him, Jaykub, as a lot of Cobs are called Jacob and she knew he had more character than others of his breed.

He was mad ... and had a main skill of teaching everyone that a horse could always win, yet if you asked for help, he was a gentle and careful with you as possible. He was very intellegent, and sadly had a nervous breakdown, which is when I took on his care, and for 3 months was his only rider, to let him settle - and when the time came, I couldn't say Goodbye.

This picture was taken on that day - the day he became mine. One thing I must say is that his nerves gave him sweetitch and I am lying on very sore skin, yet we stood/lay like that for quite a time.

I know he loved me - I have never doubted that - yes, we did "come adrift" ... the last twice where the classics of him caring for me. He dumped me during a lesson, as he had to move out of the way of another spooked horse - in dong so he injured his side on a fence - he dumped me to save my leg (and spun to side-track the other horse). The last time I fell was rider error - t gallop! And I fell under him, he missed a stride to avoid stepping on me. One very special boy.

Sadly, at age 10, I got the phone call I never thought I would have - he had broken his leg, in his own field and had to be put to sleep.

I miss him - he broke his leg and my heart - one very special person.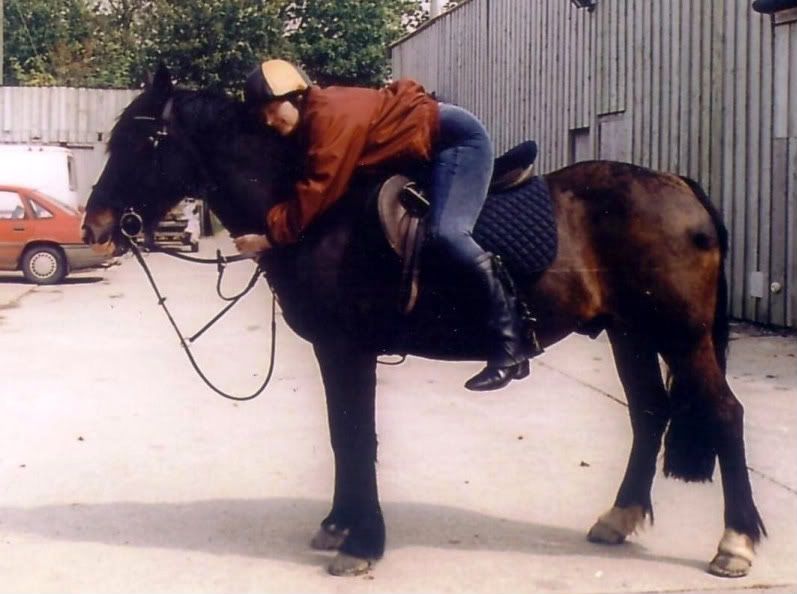 Yes, I do miss DJ, but I know he has gone to live in a place where he is having fun and being loved and cared for - a positive end of our story.



Day 16 — Someone that's not in your state/country
Day 17 — Someone from your childhood
Day 18 — The person that you wish you could be
Day 19 — Someone that pesters your mind—good or bad
Day 20 — The one that broke your heart the hardest
Day 21 — Someone you judged by their first impression
Day 22 — Someone you want to give a second chance to
Day 23 — The last person you kissed
Day 24 — The person that gave you your favorite memory
Day 25 — The person you know that is going through the worst of times
Day 26 — The last person you made a pinky promise to
Day 27 — The friendliest person you knew for only one day
Day 28 — Someone that changed your life
Day 29 — The person that you want tell everything to, but too afraid to
Day 30 — Your reflection in the mirror