And, so I continue with my Picture Meme that I snagged from
hell0kittyangel ...

Day 1 — Your Best Friend ... Toni
Day 2 — Your crush ... James Marsters
Day 3 — Your Parents ... Mum and Dad
Day 4 — Your sibling ... Nick & Tim
Day 5 — Your dreams ... here
Day 6 — A Stranger ... here
Day 7 — Your Ex-boyfriend/girlfriend/love/crush ... N/A
Day 8 — Your favorite internet friend ... Annemarie (& Stefan)
Day 9 — Someone you wish you could meet ... The Queen & Prince Philip ... and James, of course

Day 10 — Someone you don't talk to as much as you'd like to

I haven't actually posted a picture of the person~people ...as I don't have any recent pictures. However I have posted a picture of the building where we spent 3 (of 4) years. The British School of Osteopathy ... near Trafalgar Square. When we first went there it was in a different area (near Buckingham Palace) and has now moved again.

I made loads of friends ... for the firts time life was great. I have kept in touch with 3 of them ... but not as well as I should do. I am going to try and phone at least 2 of them this week.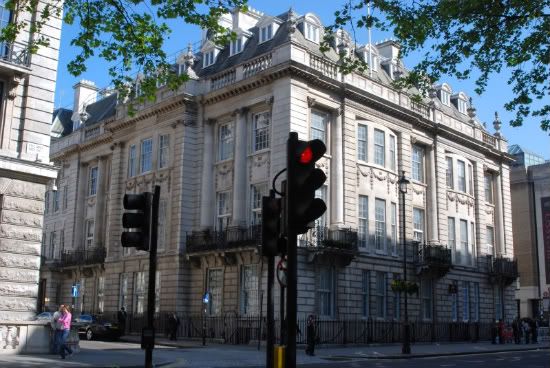 Day 11 — A Deceased person you wish you could talk to
Day 12 — The person you hate most/caused you a lot of pain
Day 13 — Someone you wish could forgive you
Day 14 — Someone you've drifted away from
Day 15 — The person you miss the most
Day 16 — Someone that's not in your state/country
Day 17 — Someone from your childhood
Day 18 — The person that you wish you could be
Day 19 — Someone that pesters your mind—good or bad
Day 20 — The one that broke your heart the hardest
Day 21 — Someone you judged by their first impression
Day 22 — Someone you want to give a second chance to
Day 23 — The last person you kissed
Day 24 — The person that gave you your favorite memory
Day 25 — The person you know that is going through the worst of times
Day 26 — The last person you made a pinky promise to
Day 27 — The friendliest person you knew for only one day
Day 28 — Someone that changed your life
Day 29 — The person that you want tell everything to, but too afraid to
Day 30 — Your reflection in the mirror