Yes, that is the question of the morning.

There is someone coming to see DJ tomorrow, so this morning may have been my last ride.

However, the weather was stunning - and DJ sparkled, as he had a bath over the weekend, and has since been wearing his rug. That means he glows, but also this cold weather has not been so bad for him. I took some more photos - and as you can see, this is him looking smart (and warm) first thing this morning.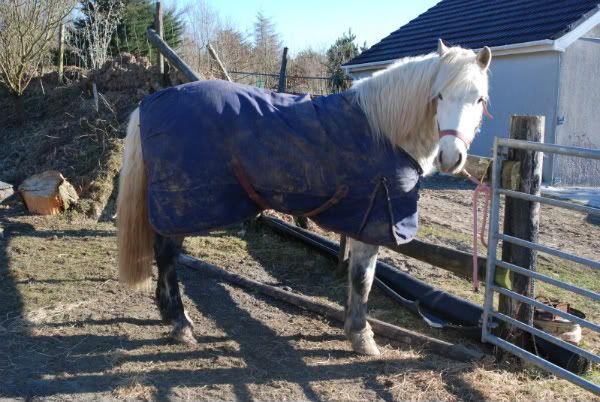 We met up with Roz and her new, as of yet, un-named horse, and along with Toni and Junior we just went "up the road and back". It was a lovely morning - the sky today is bright, and although cold, it's one of those days you are glad to be part of.

Once back, Toni walked with me to the land, and I rode DJ round a couple of tracks, although it was too hard for a proper canter, but I took him over a couple of jumps, which was lovely.

Then back to his box for a snack, a carrot ... and then (along with some hay) back to his field.

Very sad to see, but he looked truly stunning standing in the sun munching his hay.

I now wait till tomorrow evening to find out if he is sold!