Today I got to Toni's at about 11.30am as I wanted time to get DJ in, leave him with some hay while I told her about my decisions, and then groom him! As it turned out, I got there at the same time that he did! Toni was also having Conrad's feet trimmed, so wanted them both in, and had just got back from the fiels as I drew up.

So, we went in, had coffee and chatted ... and chatted.

Ian was, as ever, early ... the only farrier to do that I think! He did Conrad first, so that he didn't have to smell DJ's feet burning, and watch him disappear in a billow of smoke. If any of you missed my full post, last year, then have a look to see what I mean.

DJ is usually pretty good (as most well trained horses are), at standing for the hour that it takes to have his new shoes on. I was quite suprised to see he still had the old ones on, and Ian was amazed to see his off-hind still there as it only had 2 inner nails left.

I took a couple of pictures, and this is him bare-foot! As you can see, Toni and I were chatting so much, I didn't get time to groom him!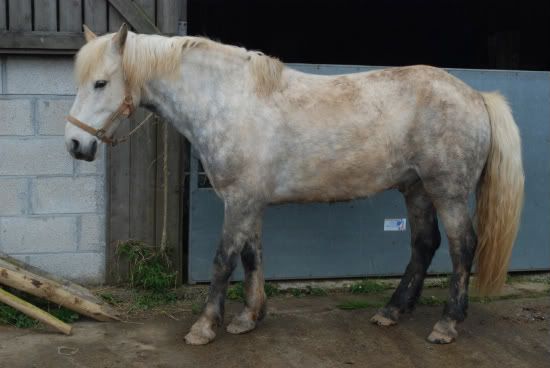 After Ian had finished, I gave him a feed and then back to his field, so he and Conrad could compare notes!