As I promised when I posted my 366 Day Meme picture earlier, I would have another couple of pictures.

This one is as I opened the gate into their field -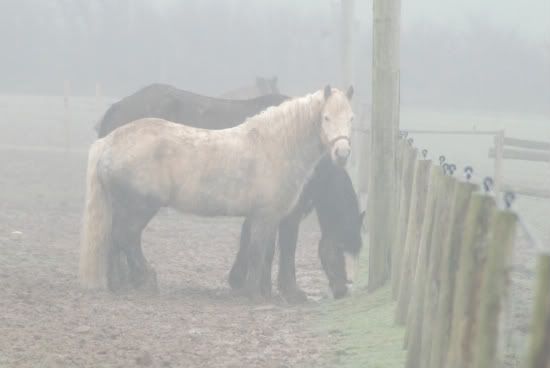 And now I am walking towards them ... Conrad is, as ever, hopefull for a piece of DJ's carrot.



For those who are wondering - DJ is a typical 14.2 pony ... whereas Conrad is not yet 5, unbroken, and as you can see by his bottom, he is still growing!!

Anyway, DJ walked in well, and then had a good-ish groom. It is very hard to be thorough when he is wet and muddy. I did manage to plait him, but not easily!

We then waited for Toni to tack up Smudge before heading out to meet up with Ros. The weird thing is that I think DJ was jealous that Smudge did the gate, as while we were waiting DJ was skipping (and threw in a small buck!).

Anyway we met up with ros and no-name and proceede to go down to the Church and back. The weather was murky and damp, but not bad enough to make riding dangerous. Idf light levels drop, I don't ride ... it is not worth the risk ... Toni is the same.

It was a lovey ride, and DJ was great - I made him keep at walk the whole time, rather than his normal jog that he does. He even managed to keep up a pretty good pace, and we only had to trot a few steps on a couple of occasions.

He more than deserved his feed when he got home.