People often say that the English are always talking about the weather, but maybe today is the reason why?

Last night the rain and wind were horrific - I felt sorry for DJ and his friends in their fields.

Then as I drove there this morning, the village I go through had a layer of snow over it.

Once I got to Toni's it was to see puddles, wet stables (where it had rained in) and tired horses ... mind you, it also meant DJ was glad to see me!

He had a carrot and a mouthfull of halage, before being groomed. The sun was out, and it was warm, so I plaited him.

I then tacked him up and walked up to Ros and no-name and we headed off towards the Church ... and into a hail storm. By the time we were walking back up the canter track, it was only wind and rain that we were fighting ... and then we trotted the rest of the way home in the sun!

DJ was a good boy, and took the lead nost of the way, so I am glad to say he behaved himself this morning.

By the time we got back, he was actually steaming - wet coat, that had to the work in the sun ... steam!! Yes, this is his back, while he is busy itching his mouth on his foot!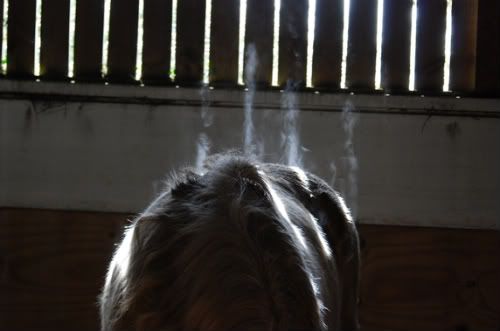 That must be one of the weirdest pictures I have ever posted ... of him, or anyone!!!

Any way, I let him settle for a bit, then fed him, and took him out to his field. Then went and fed them all - and ended up having to repair Badgers rug, as well - he had torn the catch off one of his leg straps ... string can be very useful!

Then a drive back hom - through snow!