As I told you all earlier in the week I have Kai staying with me over the next 3 weeks - although he is going to toni's youngest daughters for the weekends. She has a 2 year old child and lives in a flat - so not an ideal life for Kai. Anyway, here is a picture of him just as we got to Toni's this morning.




He travelled with me and stayed in one of the stables, which is OK for him - both clean, with his spare bed, and high grids on the door.

When I had ridden, I also fed the horses - so thought you would like to see them all, as they are today -


DJ, had to have the first mouthful of hay before he let Conrad join him. Apparantly when Toni feeds them she doesn't have that problem - neither does Ros, whose job it will be over the weekend while I'm away.



Now Conrad can eat.



Junior - the only girl of the herd.



Smudge. - the horse that Toni is competing with at present - They came 1st last Sunday.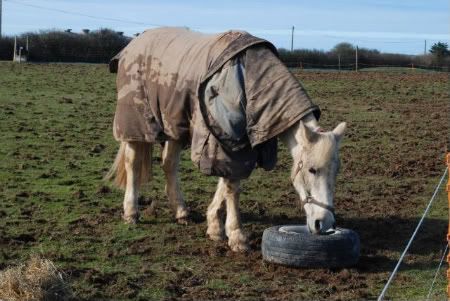 Badger, who shares with Junior at present.