Today was "Wednesday" in disguise!

The sun was shining and DJ and I were meeting up with Ros.

Yesterday I had given DJ such a great groom, that although he had rolled, he came in pretty clean - and as his mane and tail were sprayed, they were still fairly untangled ... and all his "nooks and crannies" were still clean. So all in all, I managed to get him done in time to take some pictures. The first one is similar to the one I have already posted for the 366 Day MEME that I am doing - His first plait of the year.

As I said, the sun was out, and he has his winter coat, so I plaited him.





As you can see, his tail is combed out.




In the sunshine, you can really see that he desparately needs a bath! A lorry was driving past the gate, which is why he is focussed like that.




And, to prove he has 2 sides -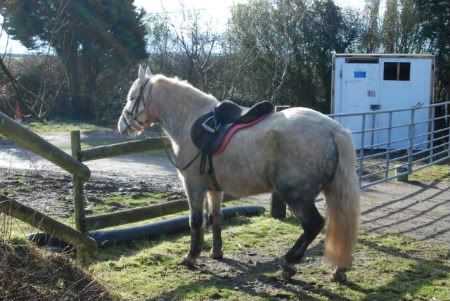 I then packed my camera away and rode up to meet Ros and the-horse-with-no-name. We didn't go far, as DJs foot was a bit sore from where he had pulled off his shoe - that's why he was back in his boots again today.

Guess what - yes, I took him bac to his field after feeding him and ... more mud!