I think this is now the end of my photo MEME - However if I have forgotten you (Ooooops) or if there was something else thet you wanted to see a picture of, please do let me know.

These pictures are for
kudagirl , who asked for pictures of my hands and rings and for
beanbeans who asked for a favourite tree. There are one or two I like, but this is a lovely one.

It also shows, along with the second picture, that ... YES ... Bude is hilly. Someone commented that my road looked hilly - yes, it is all up and down here!


These pictures were taken this morning - and are awful from a photographic point of view - but showed my hands in typical ring-mode!
LEFT HAND
Little finger - silver Celtic ring, that I bought.
Ring finger - Mum moans that I wear a ring here. I have only just started as I say otherwise I won't get the chance (LOL). So, sometimes this finger is naked, but today it is the oldest of the rings I am wearin - Silver and Sark stone ... bought when I was on Guernsey when I was 17 in 1978.
Middle finger - my newest and least favoutrite ring. I used to wear a silver ring from Malta here, but with the damage to the finger I couldn't get it back on. Tim and Cliare bought me this stainless steel swivel ring last year for my birthday.
First finger - Silver swivel ring from Tim and Claire.
Thumb - Silver ring from Tim and Claire.



RIGHT HAND
Little finger - 3 coloured ring from Mum and Dad, which I can't remove (easily)
Ring finger - 3 coloured ring bought with money from both my grandmothers for my 18th in 1979. .... At weekends I tend to change this for a ring with a stone in it.
Middle finger - 3 diamonds - from Mum and Dad.
Firts finger - From Mum and Dad.
Thumb - Copper ring ... as I play my clarinet I used to get aching in the joint - I don't now I wear this!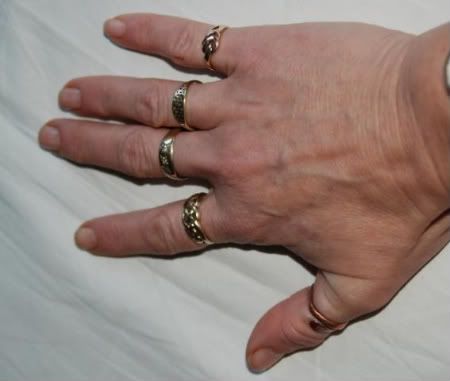 This was taken about 3 miles outside Bude on my way back from DJs - looking down on Bude.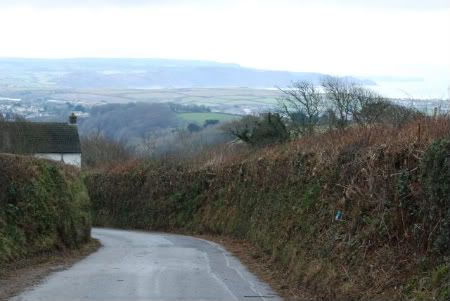 I do love this tree - and the general idea of it - This is the centre of Bude ... and lovely to have this patch of green ... and again shows that the town is hilly!