How did that happen?
I will admit I have spent quite a bit of the time between my last post, and this. There have been some fascinating documentaries on the TV about Prince Philip. Most of the events I already knew about, but it was interesting to see interviews with his staff, and colleagues. In the evening programme his 4 children were interviewed. So sad that at a time like that they still have to be on TV.
My thoughts and prayers continue with The Queen, his children and their families. Royal, or not, they are still a family. The Queen & he celebrated their 73rd Wedding Anniversary last November ... literally more than a lifetime for many people.
Today I walked to Tesco, and then after lunch had another walk (a total of just over 3 miles today). I also walked via the hospital this afternoon - and they have a flag flying - at half mast. They very rarely have a flag, and if it is it is normally the NHS one. As you can see on this (poor) photo that this is the traditional Union Jack. RIP Prince Philip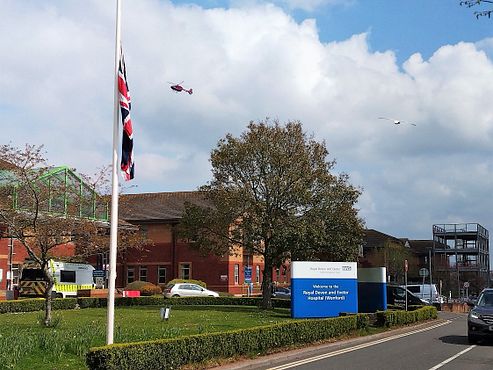 And, of course -
10. What's the most beautiful place you've ever seen?
I loved Yosemite, Bryce Canyon, Amalfi Coast, but my favourite view is that of Bude, as you can see on this image -
(Thanks cornwall.co.uk)
I tend to enjoy seeing new places, and exploring ... so ask me next year and I may have found somewhere new.
11. Are you more sensitive to heat or the cold?
My ears don't like the cold!
I don't mind either, although if it is hot and stuffy I really find that frustrating.