Yesterday was a really nice day.
it started with a Church Service for half an hour - a lovely time of contemplation on the suffering of Jesus on the cross. We actually finished with one of my favourite hymns ... even if it was the "other" tune than my favourite! So will sing along as I type up this scribble!
After that I drove to Newton Abbot to meet up with Christine. As she doesn't drive the plan was for me to drive the few miles between us, and for her to buy the pasties!
So we met up and did a circular walk around Wolborough, a district of Newton Abbot. We spent some time wandering round the cemetery as we both like that, and then sat (apart) on a bench and enjoyed our pastie (and an Easter biscuit!). We both spotted the first bluebells of the season, so that made an extra splash of colour.
From there we walked around the hill in that overlooked Newton, before heading back via Newton Abbot cemetery (where Christine's mum rests), and then back to the car. It was about 4 1/2 miles, and sunny but cool. So a lovely afternoon.
So here are photos - which are also my PhotoFriday set!
A great Easter image I spotted in the Churchyard of 3 crosses -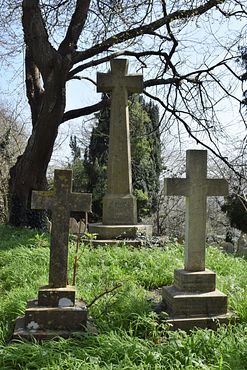 Christine
Bluebells -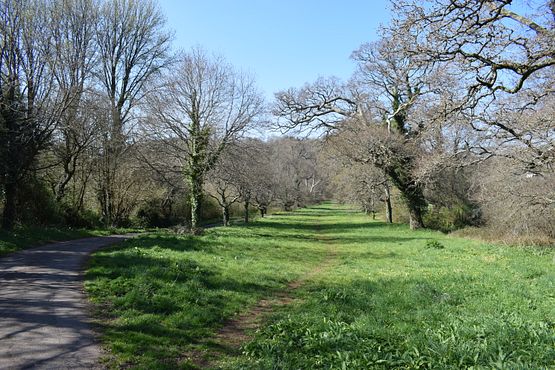 Just loved the colours in this roundabout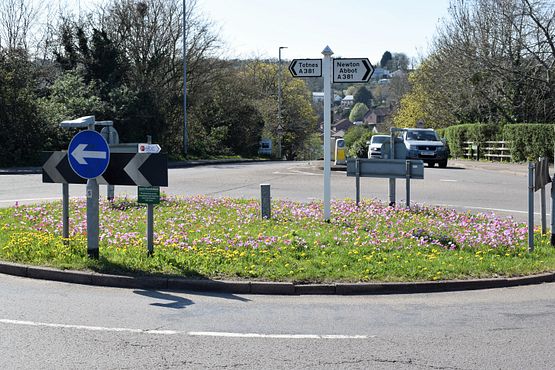 Then back home ... and, yes, I had hot cross buns for tea!
So, now it's Saturday and I had a 3 mile walk this morning before doing this, and later I shall go and get a few bits of grocery, before a lazy evening.
Tomorrow I am going to have Easter Dinner at Tim & Claire's ... although it will be in the evening, not lunchtime which is when I usually eat my main meal. However I am looking forward to it.
So, all in all a really nice Easter weekend.
However I do have 3 questions to do before I do anything else today! Here we go -
2. Do you listen to any podcasts?
No
3. Favorite fast food chain?
McDonald's or Pizza Hut
4. What are your goals for the next year?
I want to finally get to see my Deborah tank (the holiday has been delayed from last year, to this year, and now to next year!)