Well I had planned to sit and watch the celebrations on TV ... so in some ways my day hasn't changed! Yes I am wearing red, white & blue, and actually have a couple of flags up, as you can see.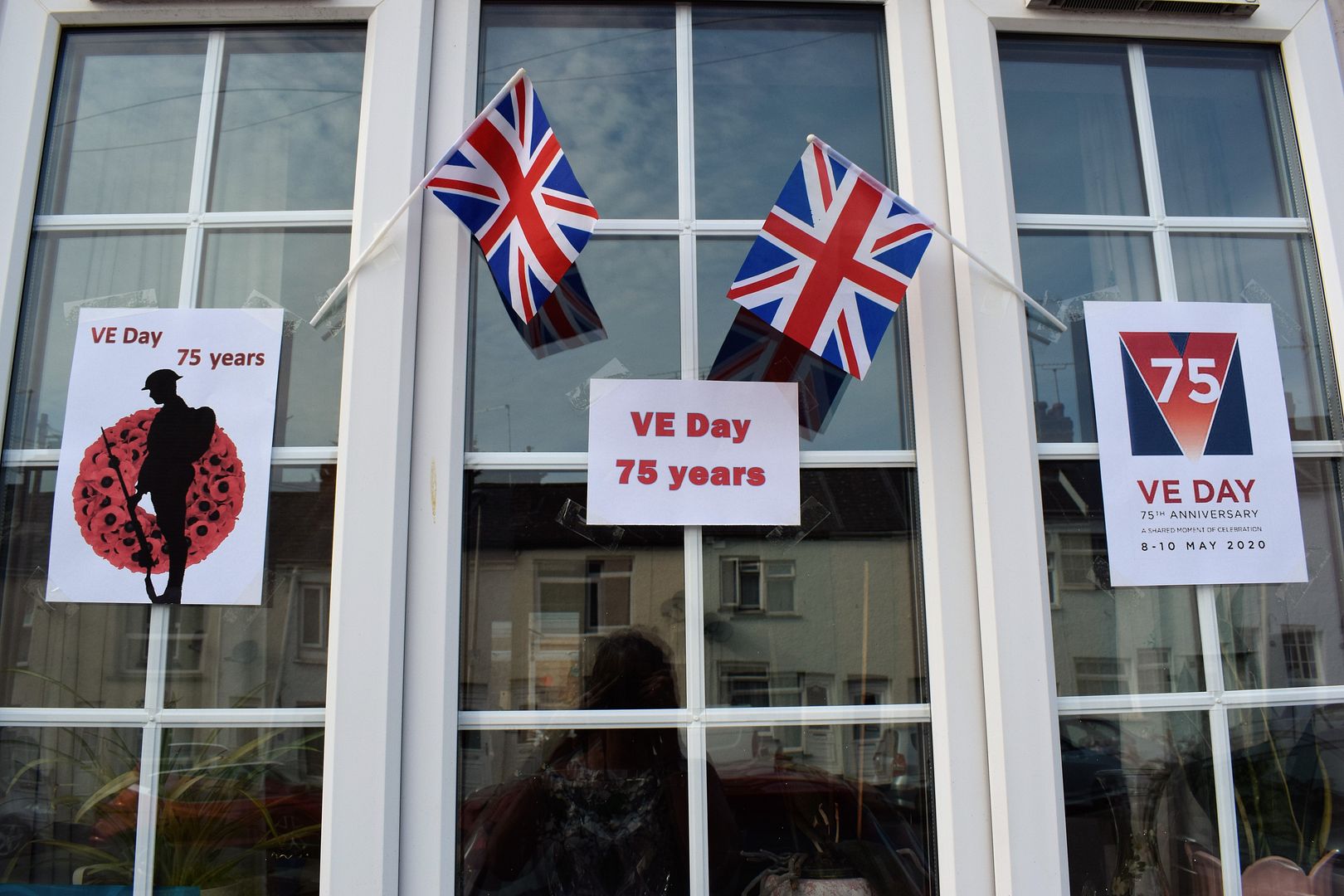 I saw the 2 minutes silence with Prince Charles, and Camilla Duchess of Cornwall, this morning. It may not have been somewhat less in attendees, but still so poignant. It made me remember stories that I had heard from Mum & Dad, and a couple of friends ...
Mum
She and her parents walked into the next village as they wanted to speak to her Dad's father. However when they got there the village square was filled with celebrations. And Mum was amused to watch her parents "dance the night away". (As our denomination is not happy with dances it was a fun evening for her in more ways).
On a sad note, her boss had received a telegram the previous day to say that his only son (and partner, as they were both solicitors) had been killed in Burma ... the war there went on for a few more months.
Dad
His father was working, and his mother & sister stayed in, so he walked around local roads chatting to people. He was amazed to see all the parties, and bonfires which were made from the remains of bombed out houses. He also commented that a couple of days later he noticed that these fires had actually burned holes in the roads!
Auntie Mary
Mum's best friend. I actually spoke to her this morning, and we talked about her memories of walking through her village, just hugging and chatting. She was 15
Len
He was a regular soldier, who passed away in 1992.
On VE Day, he was on the operating table, in England, having his appendix removed! So very "normal". However he apparantly had a V shaped scar, as the sugeon celebrated the day!
Ted
He also died in 1992, and was the friend who crossed to Normandy on D-Day itself.
He was in Germany, and found out the following day that his twin had actually been killed on VE Day . He was a guard of German POW's, however they had a new batch of prisoners who were Hitler Youth, and not ready to surrender. So sadly Ted's brother, and another, were killed.
So there are some memories ... they need to be remembered, both the good & the bad.
They shall grow not old, as we that are left grow old
Age shall not weary, nor the years condemn
At the going down of the sun, and in the morning
We shall remember them