Hoping that you can all help me ... one or two of my friends in particular.

As you probably now know I have a new camera, and want to get back into "proper" photography. Now I have part of my problem ... can't think of anything to photograph ... I know that is silly, but when I did my course a few years ago, we were given tasks to do ... Fo me, that makes life so much easier.

So, PLEASE, could you challenge me ... What shall I take pictures of.

It can be a one-off picture, or a set ... small or large, I will give it a go.

However I must remind people there may be a time delay, due to weather at present!

Anyway, under the cut are a few pictures I took today of Stratton ... it was the original town, before Bude was developed in the 19th century.




Stratton Court House ... now a private dwelling.
The house in the middle is clearly dated 1511. These houses are opposite the Church and during the civil war had Royalist leaders staying here prior to the Battle of Stamford Hill (Stratton) in May 1643.
Stratton Church.
The Churchyard is very typical - except for theis stone, which was erected in 1910 to a local resident.
The Church Tower is 15th century.
The masonary of the Church varies from 13th to 15th Centuries. Sorry the pics are a bit dark - it was raining out (and I had forgotten my tripod)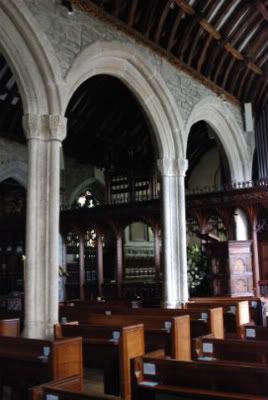 The font is 13th Century.
The Rood Screen was built in 1907 to replace the stone one, that had been added to replace the original wooden on, that was removed during the reign of Henvy VIII.