Although I am English I live in the one County that those who are born here, call a separate Country!
It is officially a Duchy with Prince Charles owning all the land, that isn't privately owned. That is why Camilla was, on their marriage, given the titile of Duchess of Cornwall.
So, for many of the Cornish, today is a very special day - with the Cornish flag being flown.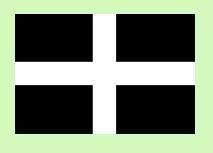 This is the flag of St Piran -
Saint Piran
is the patron saint of tin-miners and is also generally regarded as the national saint of Cornwall. (Saint Piran's Flag is a white cross on a black background.) St Piran's Day is March 5th. Read more -
St Piran
There will be gathering around the County - this picture was taken at one of the many gatherings last year -
Cornwall has it's own
National Anthem
based on "The Song of the Western Men", by Rev R.S. Hawker (Of Morwentow). When we have a "Proms in the Park" with our Orchestra this is how we start the concert ... not my National Anthem, as I am not Cornish, but for many today a very important song :-