When I was expecting Brenda I told you all I would see you next week - I wasn't expecting it to be at the end of the week, but that is what happened. Sorry. RL can be such a pain, can't it!

Anyway - let me catch up ... yes, I have photos to share, but will only share the ones that I am going to post on
photo_scavenger, so if you don't want to read about my busy times you will have something to look at!!

So - me ...



Brenda actually arrived early on Wednesday (the 11th). She arrived with flowers, and I hadn't quite organised dinner, but at least I had finished the cleaning! It was the first time she had visited to stay, so I was looking forward to seeing her, and as I said, to actually giving her a mini-break.. She was spending her holiday from work decorating her hall, staires & landing, so I was glad she could get away fro a few days, although not as much as I had hoped, as she had to go and spend time caring for her dad while her sister was on holiday. geoffrey is the same age as Dad was (97), and it doing pretty well.


That evening I had Tim & Claire over for dinner as well - so we laughed a lot, chatted a lot and basically it was a good, but latish evening.


Thursday I took Brenda to a National Trust property in Cornwall, stopping on the way to pick up Christine as well. We had a real fun day out, and although it poured with rain all the way there, it brightened up while we were there (photos to come)


That evening I took her out for a meal at a local pub (to save me having to cook something!)


On the Friday I took Brenda to another NT property, this one on the edge of Dartmoor, Devon (more photos to come). brenda bought me lunch, and after an ice-cream we haded home earlyish so that she could head off to take over from her brother at her dad's.


Saturday I had washing to do, and was pretty tired so decided not to switch on the computer


Sunday, while watching our Church service (we are having building work done, so still not back on site), my phone rang ... it was Auntie Joyce asking me to visit as she has decided she wanted to have care. Fine ... although as it turned out I was 101% committed to the Tuesday clinic due to one of the patients who we had booked in. So I told her I would head to her when I finished work on the Tuesday.


After watching the rest of the service (having paused it), I contacted Brenda & Tim to let them know. Brenda got Nick to look at homes & options to let me know before I left on the Tuesday.


After work on Monday I then started doing the same homework - I was quite pleased as 2 of the 4 places I found coincided with Nick's list ... so nice to know we had similar answers. at Tim's suggestions I also found places in Exeter.


Tuesday, ironically "the" patient didn't come! So I left work at 12.30, and was out of the house by 1pm. The journey was pretty OK with a couple of stops and a real delay for an hour at one point due to an accident. I arrived about 8pm, to Auntie Joyce saying she was suprised I had come! YES, you read that correctly!


So after realising she was as OK as ever, my panic subsided slightly. Afetr a night ( sleeping on the floor) I chatetd to her about her options ... care at home, respite, a Care Home (here or there) ... and her overall answer was that she was not feeling well enough to do anything, and no amount of talking round her would make her change her mind.


So Thursday I headed back home ... with her parting words being that she was so glad she was able to let me have a nice lazy day off work on the previous day! I thought she was odd, but that was a classic statement.


However I do think overall the hardest was that she has basically "deleted" dad from her life. If I spoke of him she either ignored me or changed the subject. Her one comment was when she spoke of her cousins as her only family. I mentioned dad and us 3 when she answered that he was not the same as her cousins.


So I was glad to "escape".


I had previosly planned to meet up with Christing yesterday, so I text her on the way home to see if she was free, as I felt I would need a day off to re-set myself. She came over on the bus and we went to the local NT property (photos to come), and we enjoyed the day ... even though we got wet! Before we left she treated me to a cream tea, so a nice end to my week




And now it's today! I have walked to the shop to get food, and now have written this .... hope you are still awake. But for those who couldn't manage the thought of reading my scribble, here are a couple of photos to look at -

The prompt was LEFT

This was a pre-WWII calender, which Grandma always had up, and I now have haning in my kitchen. The quote at the bottom is "The girl I LEFT behind me" The image is from the Boer War, but I always imagined it was Grandma & Granddad, even though the war is wrong, and they didn't meet till it had finished!!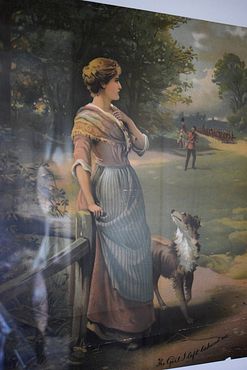 ALPHABET

This is one of my books that Mum & Dad gave me for my first birthday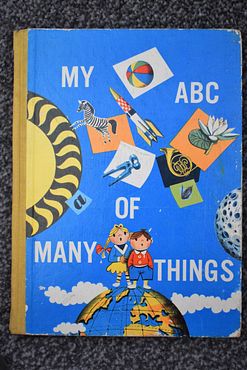 So I will catch up on the meme at some point, and hope to catch up with you all as well ... if I have missed anything please let me know. The photos of my 3 trips will also come soon.

Hope you are all keeping well x