As part of my birthday celebrations I (as I have already told you) met up with my best friend for lunch. After lunch we had a walk, and then they headed home, and headed sight-seeing before leaving the town.

Yes, on Wednesday I went to Okehampton Castle ... and here are a few photos of the ruins. truly stunning that some of the building (at the top of the hill) was actually started 2 years after the Norman Conquest, and was lived in until until the time of Henry VIII

Apparently there is a ghost in residence, but she didn't visit while I was there.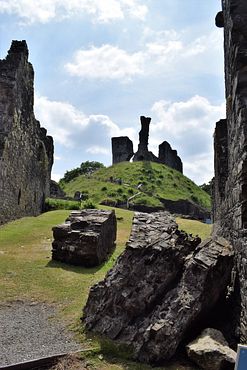 The piscina in the Chapel