As I carry on my trip around England I come to the second county beginning with D, that of Devon. Last week I was in Derbyshire and now we move south ... to the county of DJ's birth.

As I live in the bordering county of Cornwall, I am showing pictures of places I know of ... and most of them I have actually visited.


EXETER
The west face of
Exeter Cathedral
is the
largest surviving display of Medieval Structure in Britain
, while inside is the
longest stretch of unbroken Medieval Gothic Vaulting in the World
, stretching for over 300ft (91m). This Cathedral certainly is stunning, having been there on many occasions, but I hadn't realised how historically significant it was until now.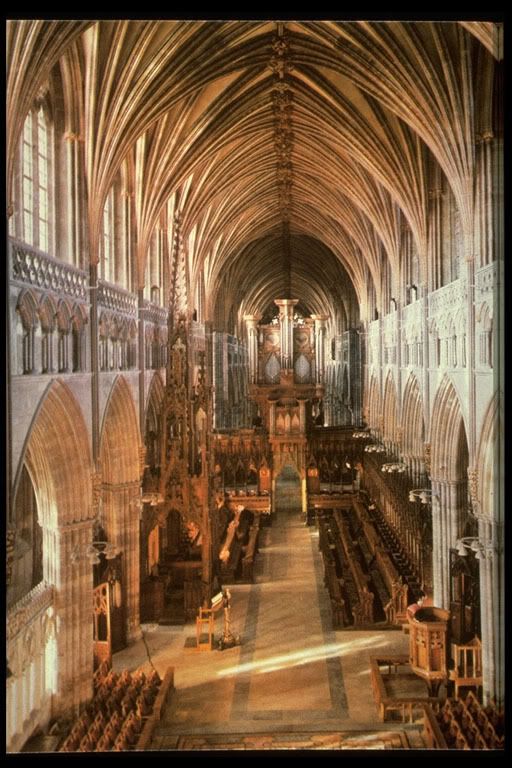 Exeter Guildhall
, on the main shopping street, is the
oldest guildhall in England
. It was built in 1468 and still used today. It also contains the
oldest civic seal in Britain
, dating from 1175
PLYMOUTH
In 1439, Plymouth was the first city to be incorporated by Parliament rather than the Monarch.
All roads in Plymouth lead to
The Hoe
. Sir Francis Drake was playing bowls here in 1588 when he heard about the Spanish Armamda - and by testing the wind,remarked "There is plenty of time to win this game and to thrash the Spanish too".
Seen in this picture is also
Smeaton's Tower
- Which was originally built in 1759 on Eddysons Reef and was moved stone by stone to it's present location in the early 1800s.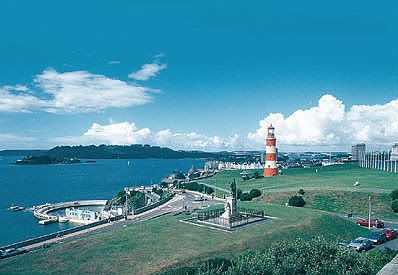 A steep walk down the hill leads to
The Barbican
which has the
largest area of cobbled streets in Britain
. It is also home to the
Worlds oldest working
Gin distillery
, started in 1793.
In 1620, the
Pilgrim Fathers
left from these steps in Plymouth, called
The
Mayflower Steps
to "found an empire" They named their first point of lanfall - Plymouth Rock.
Close to these steps is
Jacka's Bakery
, the
oldest commercial working bakery in Britain
. They baked the ship's biscuits for the Mayflower.
William Bligh
(1754 - 1817) and captain of The Bounty was born in Plymouth, as was
Ron Goodwin
(1925 - 2003) and
Wayne Sleep.
DARTMOUTH
Dartmouth has one of the best natural harbours on the south coast - and is guarded by the first
castle designed specifically for artillery.

On the waterfront there is also a building that houses the
oldest working steam engine in the world
, which was built by
Thomas Newcomen
. He worked on designing something that could increase mining by pumping water out. He went into partnership with
Thomas save
r
y
, who was the first man to coin the use of the term "
horse power
". These were developed in the late seventeenth century - and some were still in working order 200 years later.
In 1795 a flamboyant vicar was born in Dartmouth - he developed a new small strain of terrier for hunting - the man's name - Parson
Jack Russell
!!
GREENAWAY HOUSE
This house, situated above the River Dart, became home to
Dame Agatha Christie
in 1938. She had been born in Barton Road, Torquay in 1890; married Royal Flying Corps officer Archibald Christie in 1914 and during that war worked at torquay hospital. She divorced her first husband when he was discovered to be having an affair and later married an archeologist, Max Mallowan. The Mousetrap, running in London since 1952, is the longest
running play in the world
(which I saw with a school trip in 1977, btw)
PAIGNTON
Painton is a holiday resort with a Zoo and evidence of the original Norman Church within the present 15th Century one. In 1871
Oldway Mansion
was purchased by
Isaac Singer
, after he had been forced to leave New York and the Paris due to scandal. The Statue of Liberty is modelled on one of his wives and after her death had a long term affair with the dancer Isadoda Duncan. Oldway Mansion is now owned by the Council and open to the public.
BRIXHAM
Brixham Harbour, pictured here, has a replica of the
Golden Hind
moored here.
Above the harbour is the 19th Century Churchof All saints.
Henry Francis Lyte
(1793 - 1847) ministered here for 25 years. Near the end of his life and suffering from TB, as he watched the night spreading over The Bay he wrote the words for
"Abide with Me".
The hymn is a great hymn of solace and it is believed that Nurse Edith Cavell recited the last verse as she was led to her execution in The Great War.
"Hold Thou Thy cross before my closing eyes;
Shine through the gloom and point me to the skies.
Heaven's morning breaks, and earth's vain shadows flee;
In life, in death, O Lord, abide with me."


DARTMOOR
Sir Arthur Conan Doyle
stayed at Princetown, Dartmoor, while researching for his book "The Hound of the Baskervilles".
Dartmoor is a vast area of land in central Devon that is used by the
armed forces
for training, and by walkers for exercise - and by the
Dartmoor Ponies
as home.
BIDEFORD.Henry Williamson

(1895 - 1977) lived in North devon and based his stories of

Tarka the otter

here. The Tarka Trail is now a popular area where the landscape has changed little since the book was written in 1927.

Other

Famous Devonians

include -

Sir Richard Burton - 1821 - 1890

Born in Torquay and discovered Lake Tanganyika.

Robert Falcon Scott - 1868

Born in Devenport

Leslie Hore-Belisha - 1893 - 1957

Born in Devenport and gave his name to the Belisha Beacon, whilst Minister of Transport

Guy Burgiss - 1910 - 1963

Soviet Spy

Charles Babbage - 1791 - 1871

Born in Teinmouth and conceived the idea of an analytical machine, programmed with punch cards ... Thus making him the

father of computers.




There is a lot more I could write about Devon - it is a large county, but hope you enjoy this taster.