Day 1 - A Picture Of Myself.
Day 2 - 20 Facts About Myself.
Day 3 - Favourite Quote.
Day 4 - What Are You Afraid Of.
Day 5 - 10 Favourite Songs.
Day 6 - Your Five Senses Right Now.
Day 7 - Your Pet Hates.
Day 8 - What's In Your Handbag.
Day 9 - What's Your Worst Habits.
Day 10 - What's Your Best Physical Feature.
Day 11 - List 15 Of Your Favourite Things.
Day 12 - What's In Your Fridge.
Day 13 - What Is Your Earliest Memory.
Day 14 - If You Won The Lottery.
Day 15 -Timeline Of Your Day.
Day 16 - What's At The Top Of Your Bucket List.
Day 17 - What Is Your Most Proud Moment.
Day 18 - The Meaning Behind Your Blog Name.

Day 19 - What Do You Collect?

Nothing specific - yet if you saw my house, or my room at Mum & Dad's you would think you were in a crowded museum!

I suppose, to be truthful, I like souveneirs - memories of people and places. I love looking at the things around me, and being reminded of good days (or bad) ... the story of my life surrounds me.

I also have things from the family - some wine glasses from my great Grandfather's pub, my grandfathers medals, pictures from my grandparents houses, a broach that my Grandfather bought his mother when he went to war in 1915, etc.

The thing you will see a lot of is giraffes. I have always loved them, and friends who know that have never been short of a present idea. My smallest is in Venetian glass (that I bought on The Rialto Bridge, Venice) and is 2" tall ... my tallest is Portious ... that my friend Toni bought me the Christmas after Jaykub died -

Portious & Jiffy -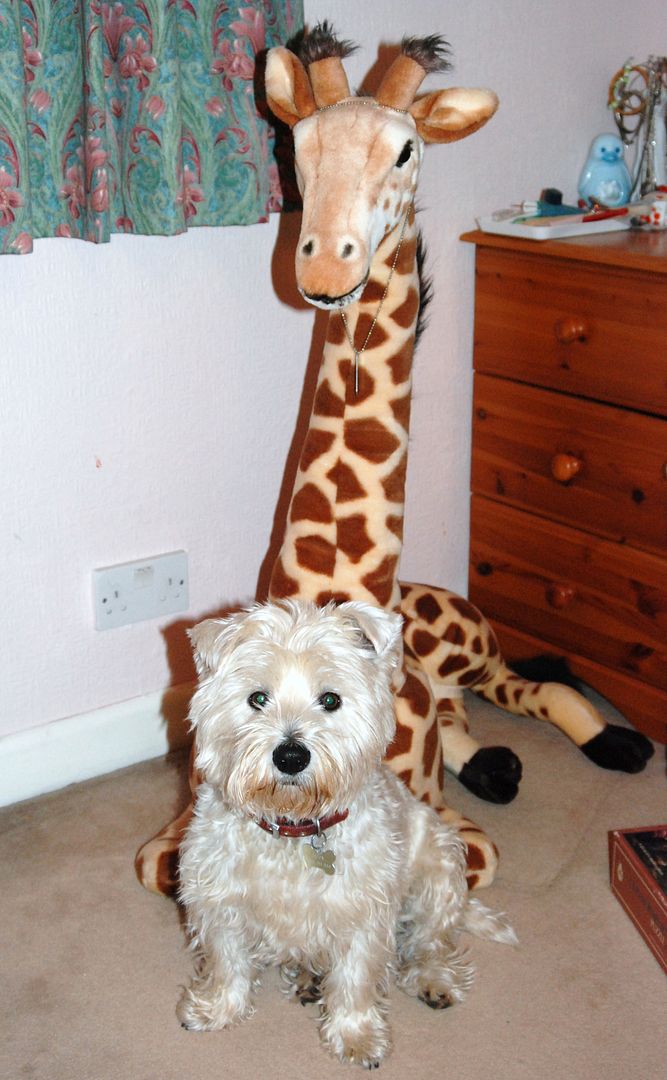 Not a great picture, as I should have knelt down ... but you get the idea.