I have already been tagged for this MEME some weeks ago HERE and have just been tagged again by
tamakin So I am going to be a good girl and do it!! No - nothing to do with the fact I am still putting off doing the filing that I ought to be doing!

This MEME is that of listing 7 weird things about yourself ... and then tagging 7 others. Well, I am not going to tag anyone - and i am going to list my 7 behind a cut - so as not to scare anyone ... well this is my 8 - 14 on the list of weirdness that is
debris4spike!!


1 - I have quite a collection of giraffes - of all sizes. My first was a wooden on bought by Mum and Dad when I was 4, the smallest one is one I bought in Venice and is about 2" tall (blue glass) and the largest is "Portius" that Toni bought me the Christmas after I lost Jaykub.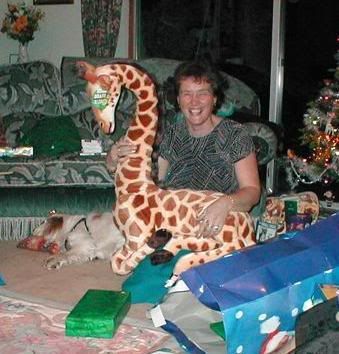 2 - I am a hoarder. I collect anything and everything. If you are thinking of throwing something out, don't I have a little space left in my loft! My house looks "Victorian" according to everyone. I have pictures in every space and ornaments on every surface ... no real theme, other than the 'raffes ... just souveneirs of holidays and family.
3 - I hate gardening. Sorry to say, as I know a lot of my f-list are very green-fingered. However it just isn't "me". I do it as I have a garden at my place and try to help Mum and Dad - but that is as far as it goes.
4 - I always have been - and still am, a head-banger. No - nothing to do with music - but the ones that bash their heads - for me it has always been when I have been asleep ... I used to really upset Mum and Dad as they had read it meant I felt un-loved. I will admit that now, as an adult, if I wake up doing it there is usually some reason of stress behind it.
5 - I love going down slides (including the death slides / vertical drop slides) and helter-skelters .... but don't like any fairground rides.
6 - I hate going out for meals as a group ... or even when on holiday etc. (A nice meal with someone special is different - but that doesn't happen all that often, so no worries!) To me it is both a waste of time and money - and as I only like really simple plain food I can never find anything I like.
7 - I love ironing ... as do both my brothers by the way, although Mum hates it!