The second county in my tour aroud England is that of Berkshire ... Otherwise called Royal Berkshire (and pronounced Bark-sheer)

The county town is Reading - which I was told, only yesterday, is the silicon valley of Engalnd, as that is where a lot of the international computer companies are based.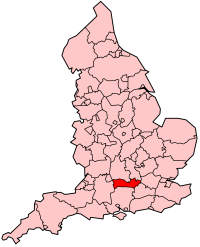 As you can see it is another of the "central counties".
READING

The town was founded by Henry 1 in 1121 and he is reputedly buried in a silver coffin in front of the High Alter of the Abbey. In 1240 a monk from Norfolk (John of Fornsete) wrote the music for a son "Sumer is incumen in", which is the
earlist recorded English song
... and one i actually remember singing at junior school. Jane Austen attended the Abbey Scool and it is now possible to wander around the ruins.
In Forbury Gardens, next door, is a memorial to The Afghan Wars of the 19th Century - on which is
The Worlds Largest Lion
!
In the 18th Century Huntley & Palmers set up what became
The Worlds Largest Biscuit Factory
. In 1975, just before the factory was closed scenes from
"Bugsy Malone"
were shot there. In 1892
Oscar Wilde
visited the factory and returned a year later to the building next door ... to serve 2 years in jail! This is what inspired him to write "The Ballad Of Reading Gaol"
BEAR WOOD HOUSE, WOKINGHAM
This property was built in 1865 by the Walters family.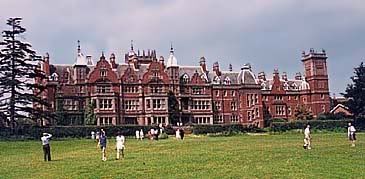 John Walter, a coal merchant and Lloyds underwriter published the Daily Universal Register on 1/1/1785 which was renamed in 1788 to be called "The Times". When Bear Wood House was being built the money was drained from the successful paper, which was sold to Lord Northcliffe in 1870 after a terrible family tragedy. The family still live in thgrounds, although the house is now a boarding school.
BASILDON
Not to be confused with Basildon, Essex.
This is where Jethro Tull was born in 1674. In 1701 he used the remains of a pipe organ to make the first seed-drill. He later developed this invention to form horse-drawn hoes. His theories form what is now the basis of modern agriculture.
OAKLEY COURT, BRAY
It is a 19th century Gothic pile and during the decond world war was used as
The Headquarters Of The French Resistance.

In 1951 Oakley Court became
Dracula's Castle
... and later
St Trinians School


In the 18th Century Down Place became the home of The Kit-Kat Club. A group of Whig polititians and literary folk who got together to uphold the protestant succession. This later gave its name to the best-selling chocolate bar.
Bray is also famous for it's long-serving vicar, Simon Allyn who was twice a Catholic and twice a Protestant during the reigns of King Henry VIII and his children. .... Of whom the famous song is about.
NEWBURY.

The remains of a 13th century Augustine Priory was incorperated into a 16th Century Gothis house for the rich hostess Elizabeth Montague. She held literary evenings here. One favourite to attend was Dr Benjamin Stillingfleet who was too poor to afford formal black silk stockings and was allowed to attend in his informal day wear - blue worsted stockings. These therefore became known as "those bluestocking sessions" ... and as ladies were allowed to attend these events, they became known as
Bluestockings
. This house, Sandleford Priory is now a girls school.

SUTTON COURTNEY
This is where Liberal Prime Mnister Herbert Henry Asquith and his wife is buried. As is, George Orwell, under is real name of Eric Arthur Blair.
ABINGDON.
This became the home of MGs ... Morris Garages were the oxford distributers of this car. The factory opened there in 1929 and sadly closed in 1980. In 1927 the proptype had been built with a fabric body of gold and stippled black which was used as a run-around. when the factory moved to Abingdon 2 years later the locals called it
The Old Specked Hen

APPLEFORD, DIDCOT

This is where
The Worlds Oldest Jockey
, John Faulkner, is buried.He rode his first winner in 1837, when he was 8 and his last race at the age of 74. He fathered 32 children ... and lived to be 104.
Another county I knew little about - and have never really visited ... Maye i will egt to see these places some day!